2019 APA-AL/MS Annual Conference


---
We had a fantastic conference with almost
200

attendees joining us in Huntsville, AL. Now that the conference is over, we've got a few resources to share!
---
For those that need to log CM credits, click the button below!
---
Missed a presentation?
Don't worry – check below for presentation links:
Economic Development
Dream Big: P3 – Public Private Partnerships
Placemaking as an Economic Development Tool for Small Communities
Using an Investment Prospectus to Promote Development Initiatives in Opportunity Zones
Zoning as Economic Development
Energy + Environment
Critical infrastructure and flood resilience: Cascading effects beyond water
Design considerations for riverine floods in a changing climate – A review
Developing an innovative framework for enhancing the resilience of critical infrastructure to climate change
Future of Energy: Preparing for Distributed Energy Resources
Integrated Stormwater Management for Local Governments
Legal Limits on Regulating Local Water Quality Impacts from Agricultural Runoff and Septic Pollution
Making Sense of Sea-Level Rise in Planning
Understanding the Burdens of Severe Weather Events and Building Resilience to Them
Urban greening through nature-based solutions – Key characteristics of an emerging concept
Miscellaneous
APA-AL/MS Annual Planning Awards Ceremony
People and Culture
Engaging Federal Tribes in Projects: When to engage, who to engage, how to engage
Market-Based Approaches to Housing Affordability
Master Planning for Public Art
What Planning Abroad Teaches About Planning At Home
Planning Law
Legal/Legislative Update – Utility Facilities on Municipal Property
Setting the Standards for Code Audits
Professional Development
Big Shifts that Will Transform Planning, APA, and Your Work
Feng Shui for Planning Departments
The Further I Go, The Behinder I Get…
How Can Planners Help Implement and Institutionalize Resilience?
Revitalization
Technology
Administering Small Cell Facilities in Your Community
How Web GIS Changed the Modern Role of GIS in Today's Planning Department
Transportation
DCRP – Connecting Campus to Campus
The Singing River Trail: Planning for a Regional Greenway
Walk This Way: Infrastructure Equality Through GIS
---
A SPECIAL THANKS TO OUR GREAT SPONSORS!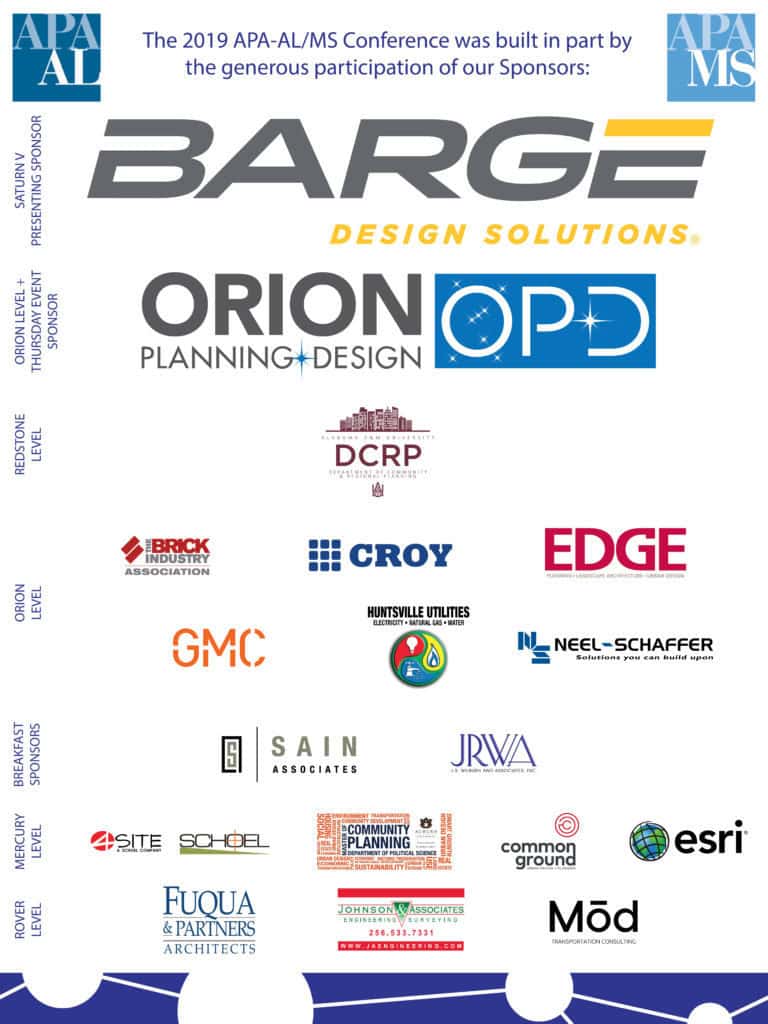 ---
Student Poster Showcase
A hearty "Thank You" to each student for showcasing their hard work during the conference! We hope you all received some great feedback and that you finish this semester strong!
Join us on the Gulf Coast next Fall as Mississippi hosts APA-MS/AL 2020!