---
Greetings, and welcome to the ALA-AL|MS 2019 Conference page! Huntsville, AL is tremendously excited to host the AL|MS conference this year – kicking off at Noon on Wednesday, October 16th – and we've assembled a great event for you. Below you'll find a complete AGENDA, a detailed PROGRAM, info on LODGING, and a form for those interested in SPONSORSHIP opportunities. Please feel free to share these far and wide, including interesting folks from neighboring states like Georgia and Tennessee. There a lot happening in the Rocket City, and across the Southeast. We've got a lot to share!
---
Conference Information + Forms
---
A SPECIAL THANKS TO OUR SPONSORS!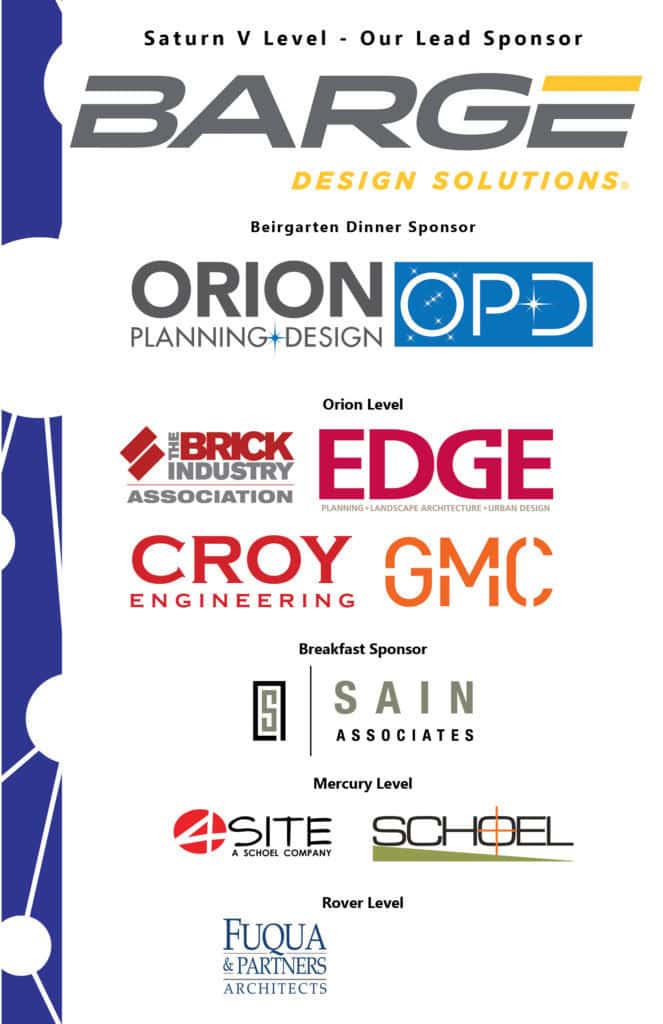 ---
Conference Venue
VON BRAUN CENTER
700 Monroe St SW
Hunstville, AL 35801
---
Student Poster Showcase
The host committee for the planning conference has established a "Student Poster Showcase" for this year's conference, with work from each of the three PAB recognized program in the two states (AAMU, JSU, and Auburn). This will be an exhibition, not a competition, and is independent of the student awards program of each of the chapters. Each program can display up to five posters of student-focused work. It will be up to each program to determine the participants for their program.
The Showcase will be on Thursday, October 17th from 7:30am to 5:30pm with a "stand by your poster" hour from 10:30 to 11:30am before the Awards Luncheon. Students can set up their work for all or just part of the day.
There are some specific space and use limitations for the facility, so all displays should be posters on a firm backer-board on an easel and not more than 36 inches wide. There is limited space, so your consideration is appreciated. There will be no electrical service and all displays must be "portable". Please bring your own display easels. Institutions should feel free to bring one poster or display with information about their respective programs. If you have any questions, please contact Dr. Jordan Yin of AAMU at Jordan.Yin@aamu.edu.
We look forward to seeing all the great student work!